PAELLA (Pronounced: paˈeʎa): A traditional Spanish dish of rice, saffron, meats, and more cooked in a shallow pan.
Types of Paella
Paella can be made from so many different ingredients that the possibility is almost endless for the possible variations on this dish.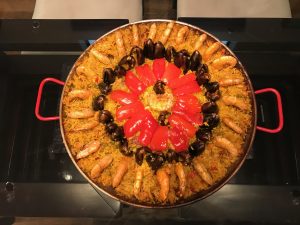 The original form of Paella has its roots in Valencia, Spain and is considered a symbol of the community there. Paella is prepared with a dry rice and vegetable mix, cooked with variations of different savory meats and saffron plus other ingredients in a steel pan over an open flame. The main ingredient in any paella dish is the dry, super absorbent rice. It is because of the rice that there are so many variations on Paella. The rice holds the flavor of anything else you add and is the staple of the iconic taste one comes to expect when eating Paella.
Whether you like the succulent seafood taste of prawns, clams, and lobsters or the smokey, sweet taste of Pork Loin and Lamb Chops, one of our signature Paella Fusion dishes is sure to peak your interest! The different types of Paella are classified based on the meats and other ingredients used to make it. No matter what your taste preferences are, you can find a Paella to cater to you. The flavors you get from adding more seafood will give you more accurately the taste of the traditional Valencian Paella. Our Chef Ricardo Mena adapted his hometown favorite arroz con pollo(chicken and rice) in a Paella Fusion. Try it today 10% of your order goes to the Red Cross!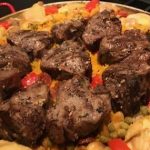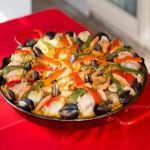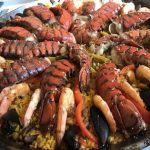 The Rich History of Paella
The "Paella" dish is named after the utensil used to prepare it, taken from the Old French word paelle, and the Latin root patella which translates to "pan". This traditional Valencian dish has been around for quite some time with references as far back as the 10th century after the cultivation of rice in Muslim Spain. Along the Eastern Coast of Spain, the rice dish was normally added with fish. This made for a relatively quick meal that could taste good and feed many people.
As the years go on, people began using more ingredients in paella and the different variations of the dish were formed. Even though different cultures have made Paella their own, the most popular version of the dish is still the traditional seafood Paella. Today, you can try our delicious Paella dishes by chef Ricardo Mena only from Paella Fusion.